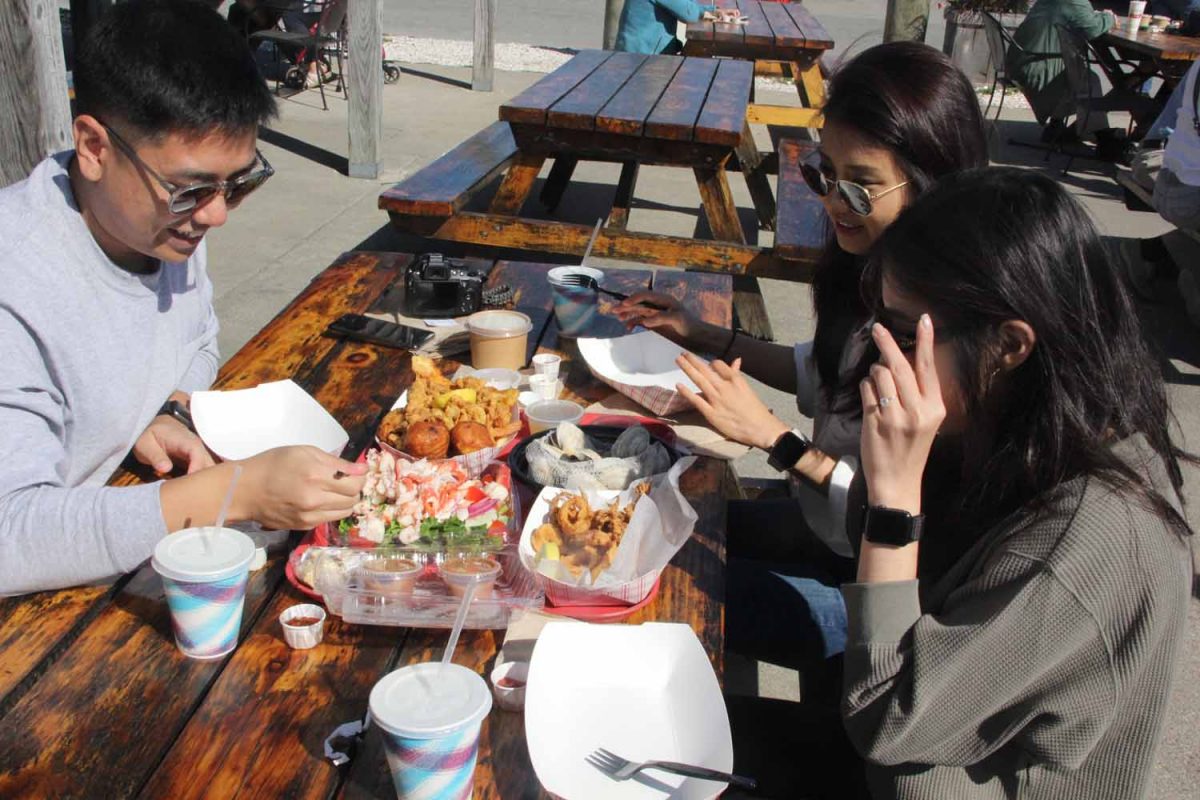 Story and photos by Judy Benson
If you're an average Connecticut resident, you probably didn't eat seafood more than once in the last week.
But you might, if you knew more about how to prepare different types of fish, shellfish and seaweed, and where to buy local seafood. You'd also be inclined to have seafood more often if you knew more about its safety.
Those are some of the key findings of the Connecticut Seafood Survey, a 2½-year project to better understand current eating habits and how best to make of all types of seafood – but especially the shellfish, seaweed and fish from local waters – a more frequent part of state residents' diets. Half the residents surveyed said they eat seafood just once a week – which is out of sync with the Food & Drug Administration's recommendations. The FDA says adults should eat two or more servings per week to get all the nutritional benefits their bodies need.
"The survey was done to see the types and amounts of seafood being consumed, and people's perceptions about Long Island Sound and local seafood, as well as aquaculture practices and seaweed consumption," said Anoushka Concepcion, aquaculture extension specialist at Connecticut Sea Grant and one of four collaborators on the project. "We wanted to get information specific to Connecticut."
As National Seafood Month this October celebrates the locally caught and farmed products from the East, West and Gulf coasts, a report on the results of the Connecticut survey is being finalized for release by the end of this year. A similar survey was done two decades ago, and didn't include the now-emerging addition of seaweed to local seafood offerings, so an update was needed, Concepcion said.
A total of 1,756 people representing a cross-section of ages, addresses and racial and ethnic groups were surveyed anonymously, with about $20,000 in federal funds supporting the project. The results were analyzed by Concepcion and Tessa Getchis, also an aquaculture extension specialist at CT Sea Grant and project leader on this effort, along with Miriah Russo Kelly, assistant cooperative extension educator at UConn and John Bovay, formerly of UConn's Department of Resource Economics. The four also co-authored the report, along with an article about their sampling methodology for the October issue of the Journal of Extension.
Kelly said the survey's findings reveal where public education efforts about local seafood should be targeted. Messages survey respondents said they'd be most interested in hearing include:
how to prepare seafood
the safety of seafood
where they can buy local seafood
information about seafood that comes from the Internet, public health officials and the seafood industry.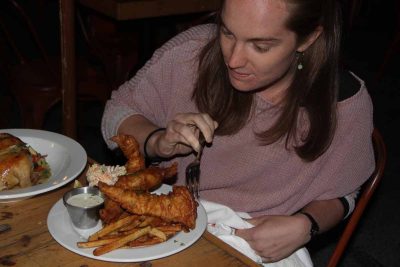 The majority of respondents also said they'd prefer to buy Connecticut seafood over products from overseas – where about 90 percent of seafood available in this country comes from. That points to a need for better marketing of Connecticut-sourced seafood, Kelly said.
"There is a huge opportunity to do public education about the benefits of seafood and outreach about local seafood and how it's cultivated," Kelly said. "The survey also indicates people would eat more if they had more access to local seafood."
The survey also showed that many people don't realize that Long Island Sound's water quality is suitable for catching fish that are safe to eat, and growing healthy oysters, clams and seaweed through aquaculture.
"There is a need to let people know that Long Island Sound is really clean and very suitable for aquaculture production," Kelly said.
Concepcion and Kelly said the survey report will be shared with the commercial fishermen and aquaculture farmers, people who fish and gather shellfish recreationally, as well as the media, the state Legislature and Congressional representatives, researchers, aquariums and consumer education professionals.
"We hope that this information will benefit seafood producers about what consumers want, what information they have," Concepcion said, "and that it will be helpful for regulatory agencies to know what information consumers need."
Survey results include:
80 percent of residents eat fish and shellfish
25 percent of residents are interested in trying seaweed products
15 percent of residents eat two or more meals of seafood per week
50 percent of residents eat one meal of seafood per week
For more information on the Connecticut Seafood Survey, contact Tessa Getchis at: Tessa.getchis@uconn.edu. Additional information can also be found at: https://seagrant.uconn.edu/wp-content/uploads/sites/1985/2018/05/Seafood.survey.pdf
For information about National Seafood Month, visit: https://www.fisheries.noaa.gov/feature-story/serving-seafood-national-seafood-month
Judy Benson is the communications coordinator at Connecticut Sea Grant.
---