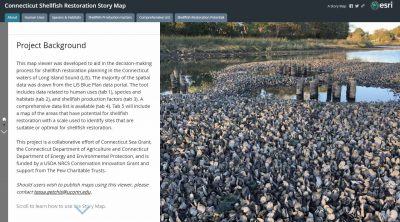 Oyster habitat in Long Island Sound is a bit like sunny summer days at the seashore—generally speaking, the more the merrier.
These native bivalves help keep the Sound clean by filtering excess nutrients and shoring up shorelines with colonies that create structure and buffer wave action, while also creating habitat for juvenile fish and other marinelife. Plus, they provide a nutritious human food source for commercial and recreational shellfishermen to harvest.
With the shared belief that more is better when it comes to oysters, diverse groups have come together to find areas to expand the presence of these shellfish in the Sound. While each group's main motivations may differ—from habitat restoration to improving water quality to growing the state's shellfish industry—the common goal of achieving a healthier Sound through oyster restoration projects has led to the creation of a new online tool to advance that aim.
"If we can get more oyster reefs established, it's good for everything in Long Island Sound," said Thomas Morgart, Connecticut state conservationist for the USDA's Natural Resources Conservation Service. "We're looking for areas with the highest restoration potential."
In the first project of its kind in Long Island Sound, Morgart's agency was a lead funder in a joint effort with Connecticut Sea Grant, the state Department of Agriculture Bureau of Aquaculture, the state Department of Energy and Environmental Protection and The Pew Charitable Trusts to build an interactive digital viewer specifically designed to aid shellfish restoration work. The Connecticut Shellfish Restoration Story Map, launched in April 2021, fills a critical gap needed to determine the areas where restoration efforts are most likely to succeed.
"In order to ensure the future sustainability and viability of Connecticut's shellfish industry, Long Island Sound needs to have productive natural shellfish beds," said state Agriculture Commissioner Bryan P. Hurlburt. He noted that the rehabilitation of shellfish beds is one of the key recommendations identified in the Connecticut Shellfish Initiative Vision Plan, a 2016 document created to guide growth of the aquaculture industry and restore native shellfish habitats.
"The addition of the interactive digital viewer will enable our staff to document long-term recovery of beds and develop best management practices to facilitate the availability of oyster seed," Hurlburt said.
The viewer allows users to zero in on an area by name or by Zip code, and then use multiple data layers showing habitats, human uses, existing shellfish beds and other information such as salinity and dissolved oxygen levels to pinpoint where oysters could grow in abundance, but currently aren't. Mainly those are areas where oysters once thrived, but have declined for various reasons, said David Carey, director of the state Department of Agriculture Bureau of Aquaculture. These include the episodic disease event in 1998, decades of coastal development and more recently stormwater runoff from paved surfaces that deposits sediment on areas of historic oyster recruitment, burying the shell needed by shellfish larvae, he said.
Tessa Getchis of CT Sea Grant's Extension Program said that this tool will be useful to many groups. Among them are habitat restoration experts who could use it to find the best areas to put resources available for water quality improvement or shoreline erosion control projects. Regulators could use it to identify areas where they could enhance the oyster seed beds that support the shellfish sector. Municipal shellfish commissions could use it to create new recreational beds or sanctuaries that act to replenish harvest areas. With this rich resource of data—much of it from the Long Island Sound Blue Plan, the recently completed marine spatial plan for the estuary—project leaders will have information critical to supporting applications for funding.
"We want science-based information to be easily accessible—at their fingertips," said Getchis.
Aaron Kornbluth of The Pew Charitable Trusts, said the end product reflects the contributions of diverse experts.
"This science-based mapping tool was designed with the input of many stakeholders, which is all the more impressive given the challenges of COVID," said Kornbluth, an officer with The Pew Charitable Trusts' project to conserve marine life in the United States. "With so much to be gained by restoring shellfish populations—from cleaner water to new jobs to protecting shorelines—those working on recovery plans in other states should take note of this tool's promise to help scale up and accelerate progress."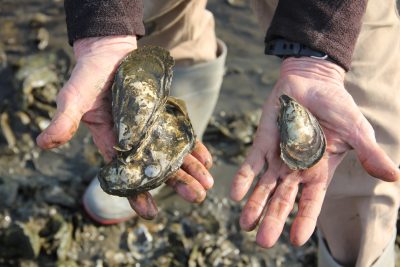 Betsey Wingfield, deputy commissioner of CT DEEP, said expanding the oyster habitat in Long Island Sound will have multiple benefits.
"Establishing wild, no-harvest oyster reefs will provide habitat for numerous species of fish and invertebrates in Long Island Sound, and will improve water quality at local scales," she said. "When these oysters spawn, the planktonic larvae may settle in other areas, thereby supporting water quality improvements as well as the commercial and recreational shellfishing industries."
While the viewer will be used initially to help revitalize oyster habitat, experts involved believe it could also help identify areas suitable for restoration of mussels and clams.
The state has more than 70,000 acres of shellfish beds, which support a shellfish industry with $30 million in annual sales and recreational shellfishing in 15 shoreline towns.
The project received $74,916 from the USDA NRSC, along with $5,000 in supplemental funding from the The Pew Charitable Trusts.
The Connecticut Shellfish Restoration Story Map can be found at: https://s.uconn.edu/CTshellfishrestoration.
---