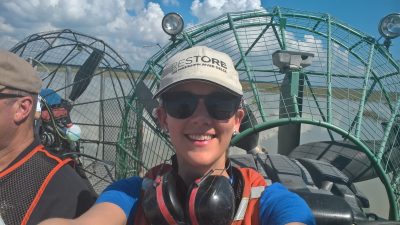 By Judy Benson
If experience really is the best teacher, Deborah Abibou and Alicia Tyson have been to some of the prime places to learn about community resilience work.
Those include locations facing some of the biggest challenges from sea level rise, intensifying storms and other climate change effects: Puerto Rico, Louisiana, Peru and Costa Rica. Now, they're ready to apply the knowledge they've gained toward helping Connecticut's coastal communities with those same challenges. It's a task they're taking on with enthusiasm.
"I'm excited to get to work," said Tyson.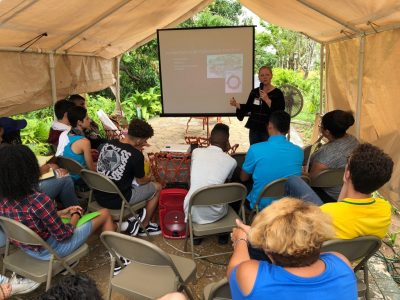 "I'm really looking forward to diving in," said Abibou.
The two joined the Connecticut Sea Grant staff on Nov. 19, filling new positions as sustainable and resilient community extension educators. Abibou will be based out of the New Haven County Extension Center in North Haven to focus mainly on coastal communities in the western half of the state. Tyson will work out of the UConn Avery Point campus in Groton to focus on the eastern half.
CT Sea Grant Director Sylvain De Guise said the hiring of Tyson and Abibou is part of a larger initiative with New York Sea Grant that increases the capacity of both programs to better serve coastal communities dealing with more frequent flooding of roads and bridges, wetland loss, erosion and other problems worsening as climate change effects intensify. Under the umbrella of a new Long Island Sound Study working group led by both Sea Grant programs, a five-year work plan was created to map out the best ways to tackle these common challenges. To implement the plan, the programs obtained federal funding to support the creation of three new extension positions in New York and two in Connecticut.
"We all know it is a significant challenge for coastal communities to become resilient to the effects of climate change," De Guise said. "We now have more people on the ground working at the interface of the built environment, the needs of people and sustainable ecosystems on resilience projects."
N.Y. Sea Grant Director Rebecca Shuford said the three new staff based in her state will coordinate with their counterparts in Connecticut to ensure their individual work plans complement one another in helping fulfill the goals of the overall initiative. She envisions all five will focus on building relationships with communities in their respective areas to ensure they all have the plans and tools needed to meet climate change challenges. The new staff at NY Sea Grant are: Elizabeth Hornstein, based in Suffolk County; Sarah Schaefer-Brown, based in Nassau County; and Sara Powell, based in Westchester County.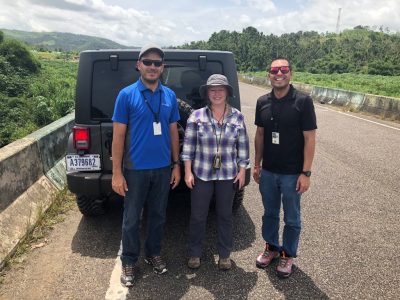 "I see these positions as being really pivotal to achieving the goals and objectives of the work plan," Shuford said. "There is also an environmental justice priority to work with all communities in filling gaps to ensure there's appropriate resources available."
Abibou, 37, spent her early academic and professional career doing avian biology and conservation work, including a stint doing research in Costa Rica while pursuing a doctorate at Tulane University in New Orleans. Following this, she focused on the intersection of habitat restoration and the built environment. New Orleans' location provided the ideal field school for understanding how the needs of both nature and people can best be met amid the shifting conditions of climate change.
"In Louisiana, the land loss from sea level rise is accelerating, but it's also a center for innovation about how to design projects for climate resilience," she said.
Many of the projects she worked on there directly involved communities in tree and marsh grass planting, oyster shell recycling, oyster cultch planting and dune restoration, among other efforts. Similarly, she hopes to incorporate communities in projects in her new home state in Connecticut.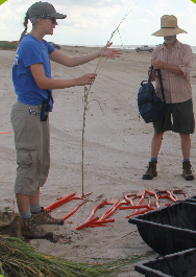 "I want to work on the most pressing problems in my own back yard," said Abibou, who relocated to Hamden, CT, last spring when her husband accepted a position at Yale University.
For Tyson, 45, working at the intersection of the human and natural environment followed nearly a decade in broadcast journalism, technical writing and website development. As a master's degree student, she used geographic information systems software to model landslide susceptibility and risk perception in the Machu Picchu Pueblo community in Peru.
She then focused on flood modeling and data projects for federal agencies and taught geology at a community college before starting a doctoral program. Fluent in Spanish, she traveled to Puerto Rico after Hurricane Maria as part of her doctoral work to assess the array of risks and challenges facing communities there. That included leading efforts to engage residents in assessing their ability to adapt and recover from flooding, landslides and other extreme events. She expects to complete her doctorate this spring.
"I've had the opportunity to work with marginalized communities on issues of environmental justice and resilience," she said. "It's a passion of mine."
Tyson's most recent position was at Progressive Partnering, a geospatial software development company based in Nashville. As a volunteer, she participated in the Urban-Reginal Information Systems Association's GISCorps in mapping the impact of Hurricane Ida and other extreme weather events. Through her various experiences, she said, she has gained perhaps the best possible preparation for her new job at CT Sea Grant.
"It's amazing how life happens," said Tyson, who plans to relocate from Nashville to southeastern Connecticut in the coming weeks. "This position is truly the culmination of everything I've been working on for the past 11 years."
De Guise noted that the unique skills Tyson and Abibou bring, together with those of their NY Sea Grant colleagues, position the two programs to play a leading role in helping the two states respond proactively to infrastructure and environmental vulnerabilities being exposed by the changing climate. Communities can tap into a growing pool of resources available for these projects—including $1 trillion in the bipartisan federal infrastructure bill signed into law last month, and another $2 trillion in the Build Back Better bill pending in the Senate. But they will need the expertise these five staff can provide to help make that happen, he said.
"There's a number of programs that recognize the urgency of the need, and have resources, but it needs to get into the right hands," he said.
Click here for information about how to reach Deb Abibou and Alicia Tyson.
Judy Benson is the communications coordinator for Connecticut Sea Grant.
---