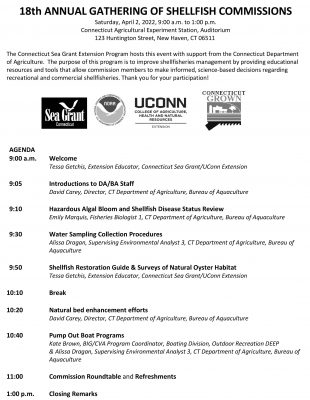 The 18th Annual Gathering of Shellfish Commissions will take place from 9 a.m. to 2 p.m. April 2 at the Connecticut Agricultural Experiment Station Auditorium, 123 Huntington St., New Haven.
The Connecticut Sea Grant Extension Program hosts this event with support from the Connecticut Department of Agriculture. The purpose of this program is to improve shellfisheries management by providing educational resources and tools that allow commission members to make informed, science-based decisions regarding recreational and commercial shellfisheries. Thank you for your participation!
Download a copy of the agenda here.
---