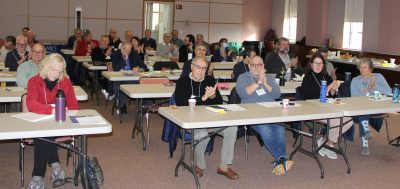 Story and photos by Judy Benson
Like the sidewalks and streetlights of a town, oyster and clam shells are an essential feature of a healthy marine ecosystem in Long Island Sound.
But just as new concrete and light bulbs keep these human-built structures functioning, marine communities need regular replenishment of shells to create the structure young shellfish need, habitat for other sea life and erosion protection for the shoreline. Problem is, too many edible shellfish are being harvested out of the estuary without the empty shells being returned, a deficit Connecticut Sea Grant is now working to correct in partnership with the state Bureau of Aquaculture and representatives from municipalities across Connecticut.
"Virtually all of the shell that goes to restaurants is being lost to transfer stations," said Tessa Getchis, aquaculture extension specialist for CT Sea Grant. "We need to get that shell back in the water. We want to explore all the ways of doing this and build in some flexibility."
Getchis' remarks opened a presentation and robust discussion about developing shell recycling programs in communities across the state. Such a program would be voluntary and tailored to the capacities of each town, following guidelines that are established for how the shell would be cleaned, stored and cured before being reintroduced to the Sound. One town, Fairfield, is already recycling about 12,000 pounds of shell annually from three to five restaurants, and UConn Marine Sciences Associate Research Professor Zofia Baumann is looking to set up a program in Groton. While these could serve as models for other towns, mechanisms for pickup, storage and other details will need to be figured out by each town.
"Shell recycling is not easy," said David Carey, director of the Bureau of Aquaculture, addressing about 45 people in the auditorium at the Connecticut Agricultural Experiment Station in New Haven. "Everyone needs to go slow and do it right or it's not going to work."
The exchange came at the Annual Meeting of Shellfish Commissions, when members of the panels come together with colleagues from Greenwich to Stonington, scientists, state regulators who handle shellfish testing and permitting and Connecticut Sea Grant aquaculture extension experts. The daylong gathering began with updates on shellfish diseases, harmful algae and human illness tracked by the aquaculture bureau's laboratory, reports from each commission present on recreational permit sales, public education events and other activities, and an ongoing project to create new maps of natural shellfish beds along the shoreline.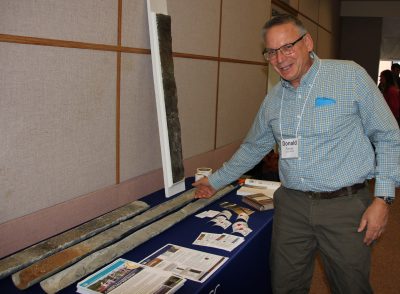 From Donald Parizek, state soil scientist for the USDA's Natural Resources Conservation Service, attendees learned about the Long Island Sound Coastal Zone Soil Survey now underway.
"There are about 40 different people working on the project," said Parizek, who is leading the project. "It's very rewarding work. We're collecting a lot of good baseline data."
The work entails boring into hundreds of locations with specialized equipment to extract tubes of soil that are brought back to labs at UConn and the University of Rhode Island for analysis. Ultimately, the project will yield maps and data valuable for dredging, salt marsh restoration, endangered species conservation, shellfish restoration, climate change resiliency and other projects, Parizek said.
While all the presentations yielded valuable information for the commissioners, shell recycling generated the most questions and discussion. To shepherd the program along, Michael Gilman, CT Sea Grant aquaculture extension assistant, has been named the state's shell recycling coordinator. He and Tim Macklin, who is establishing a nonprofit organization for shell recycling, offered to assist any town interested in getting started.
"Shell recycling is a lot of work, and in some places it's just not feasible," said Gilman. "I'm going to go through all the questions you're asking today as we try to develop this."
Jay Louden, a member of the Groton Shellfish Commission, said that despite the obstacles and complications that were raised during the discussion, he believes the benefits of shell recycling to Long Island Sound will be worth the effort.
Getchis noted that extremely important ecosystem services are provided by oyster habitats as they help to clean water and control shoreline erosion. Enhanced oyster beds also support wild capture fisheries for fish and shellfish such as blue crabs, and growing more oysters contributes to food security. The shells are essential to creating the conditions to maximize these positive effects.
"It's valuable to do this," Louden said.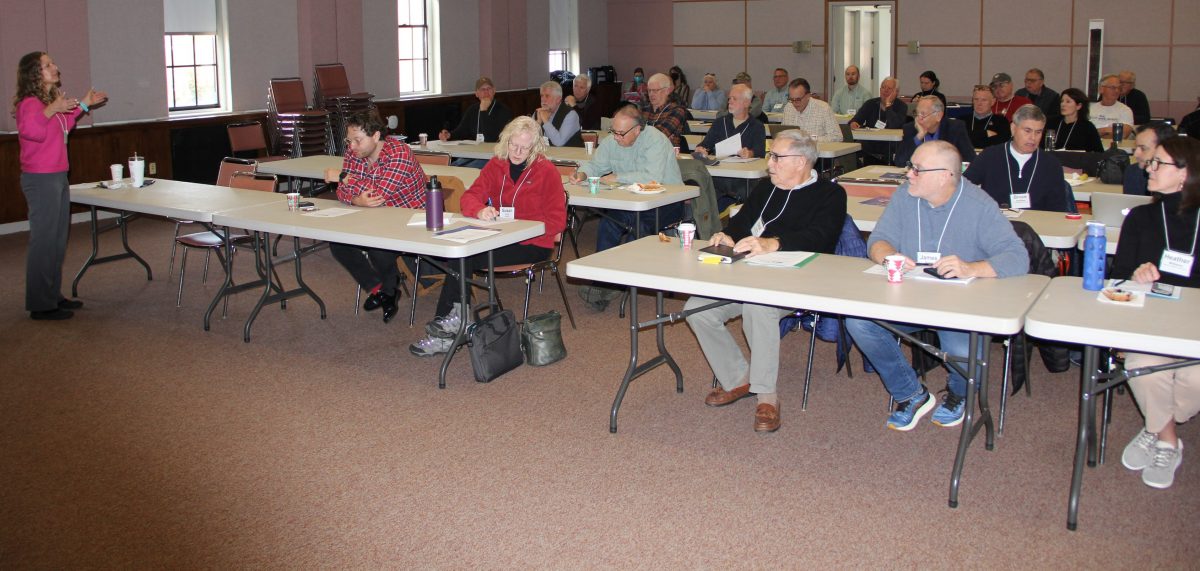 Judy Benson is the communications coordinator for Connecticut Sea Grant.
---