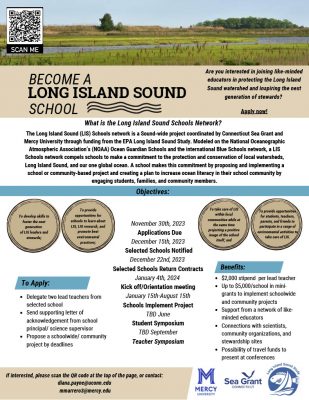 Interested in joining like-minded educators in protecting the Long Island Sound watershed and inspiring the next generation of stewards?
Funded by EPA Long Island Sound Study and facilitated by Connecticut Sea Grant and Mercy University, the Long Island Sound (LIS) School network compels schools to make a commitment to the protection and conservation of local watersheds, Long Island Sound, and our one global ocean. A school makes this commitment by proposing and implementing a school or community-based project and creating a plan to increase ocean literacy in their school community by engaging students, families, and community members.
The LIS Schools network is modeled on the National Oceanographic Atmospheric Association's (NOAA) Ocean Guardian Schools and the international Blue Schools network.
Download the informational flyer here.
Download the LIS Schools network rubric here. 
HOW TO BECOME A LONG ISLAND SOUND SCHOOL:
Designate two lead teachers
Letter of acknowledgement: school principal/ science supervisor
Submit and implement project by deadlines
BENEFITS OF BEING A LONG ISLAND SOUND SCHOOL:
$2,000 stipend/ lead teacher
Up to $5,000/ school in mini-grants to implement schoolwide and community projects
Support from a network of like-minded educators
Connections with scientists, community organizations, and stewardship sites
Possibility of travel funds to present at conferences
TIMELINE:
Nov. 30, 2023: Applications Due
Dec. 15, 2023: Selected Schools Notified
Dec. 22, 2023: Selected Schools Return Contracts
Jan. 4, 2024: Kick off/Orientation meeting
Jan. 15-Aug. 15, 2024: Schools Implement Project
June 2024 – TBD: Student Symposium (Virtual)
September 2024 – TBD: Teacher Retreat
APPLICATION:
https://docs.google.com/forms/d/e/1FAIpQLScirq6AwMTSZ6Rejt0EJ3YbT7X0dO5B5jFSplzuEHwi6l9TJw/viewform?vc=0&c=0&w=1&flr=0
In addition to completing the application, please have your school administrator email a letter of support for your project to: mmarrero3@mercy.edu and diana.payne@uconn.edu.
---