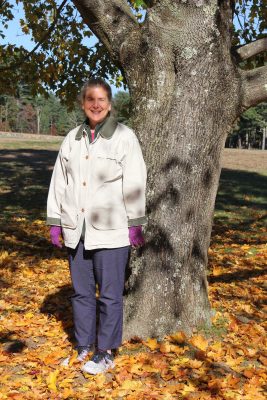 CT Sea Grant Coastal Habitat Specialist Juliana Barrett has been recognized as part of a faculty team receiving the annual UConn Provost's Awards for Excellence in Community Engaged Scholarship.
The awards, announced Nov. 3, recognized several faculty, staff and students with the awards.
The awards recognize scholarly activities led by members of the UConn community that are in collaboration with local, regional/state, national, or global communities to create conditions for the public good, culminating in sustainable change and dissemination of these activities. This activity takes many forms, including research, creative works, teaching, and community service.
Barrett, also a UConn Extension educator, was part of the Environment Corps faculty team that received one of the awards.
The Environment Corps (E-Corps) is a program that combines classroom instruction, service learning, and extension outreach with hands-on practica in the community. The program is structured around a 3-credit course focused on practice-oriented instruction, followed in the next semester by a 3-credit independent study/practicum in which groups of students work directly with officials from Connecticut towns on a range of environmental projects related to the topical theme of the course. E-Corps has successfully reached schools and colleges across UConn to provide students from many different disciplines with opportunities to bring their own perspective and talents to a central environmental issue. E-Corps students have worked on 76 projects with 60 unique town partners throughout Connecticut. The efforts of E-Corps have been noticed and appreciated with a $2.25 million grant from the National Science Foundation in 2019 from the Improving Undergraduate STEM Education (IUSE) program. E-Corps has also received funding from the National Fish and Wildlife Foundation, the EPA, and private donors.
Along with Barrett, other team members are:
Chester Arnold, Educator, Department of Extension and Director, Center for Land Use Education and Research (CLEAR)
Carol Atkinson-Palombo, Professor, Department of Geography
Nefeli Bompoti, Assistant Research Professor, Department of Civil and Environmental Engineering
Mark A. Boyer, Board of Trustees Distinguished Professor, Department of Geography
Rebecca A. Campbell-Montalvo, Postdoctoral Research Associate, Department of Curriculum and Instruction
Todd Campbell, Department Head and Professor, Department of Curriculum and Instruction
Marisa Chrysochoou, Department Head and Associate Professor, Department of Civil and Environmental Engineering
Hannah Cooke, Research Assistant and PhD candidate, Department of Curriculum and Instruction
David Dickson, Educator, Department of Extension and CLEAR
Michael Dietz, Educator, Department of Extension and CLEAR, and Director, Connecticut Institute for Water Resources (CIWR)
Peter Diplock, Associate Vice Provost, Center for Excellence in Teaching and Learning (CETL)
Keith Esch, Science Education Researcher, Horizon Research Inc.
Bruce Hyde, Educator, Department of Extension and CLEAR
Gladis Kersaint, Vice Provost for Strategic Initiatives
Suzanne LaFleur, Director of Faculty Development, CETL
Byung-Yeol Park, Post-Doctoral Researcher, Department of Curriculum and Instruction
Joan Pasley, Vice President, Horizon Research Inc.
Timothy Vadas, Associate Professor, Department of Civil and Environmental Engineering
Jason Vokoun, Department Head and Professor, Department of Natural Resources and the Environment
John Volin, Provost, University of Maine
Michael Willig, Board of Trustees Distinguished Professor of Ecology and Evolutionary Biology, and Executive Director, Institute of the Environment
---