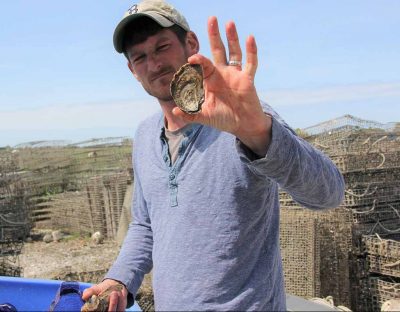 Story and photos by Judy Benson
After a dozen years running Indian River Shellfish, Michael Gilman knows well the yin and yang of oyster farming.
"It's really hard to know what this job entails unless you've really lived it," Gilman said this week, sitting for an interview at a picnic table near the docks in Madison where he and his partner and crew bring in shellfish by the bagful.
Many would-be shellfishermen are first bitten, he said, by a "poetic" attraction to growing and harvesting oysters, filter feeders that benefit the environment by improving water quality and creating habitat for other marine creatures. But along with the romance, they need to embrace the physical and mental challenges of the work.
"You've got to be able to get wet and get dirty and be out in 50-degree water where there's winds and booms flying to go get oysters," he said. "You've got to have some boat IQ and be educated in the environmental science stuff."
With that perspective, Gilman, a 38-year-old father of two, now looks to apply his skills and knowledge in a new position as aquaculture extension assistant for Connecticut Sea Grant. A former high school science teacher who also worked in a marine research lab, Gilman is eager to take on one of the main responsibilities of his new job—creating an aquaculture training program with a strong foundation in the hands-on experience, science and technical knowledge needed to be successful.
"First you've got to learn the permitting process," said Gilman, who learned the basics of aquaculture in classes at Roger Williams University. "Then, you have to learn how to start a business and grow oysters and bring them to market. It's a huge deal. I'm really excited to try to help people get into this industry."
Connecticut Sea Grant Director Sylvain De Guise said Gilman brings unique assets to the position.
"With his background and experience, Michael is the perfect addition to our staff to complement our offerings in shellfish aquaculture," he said. "I am sure the industry will greatly benefit."
Starting June 1, Gilman will be based at the Connecticut Sea Grant offices at UConn's Avery Point campus in Groton. He will be reducing his day-to-day role in Indian River Shellfish to take on the new responsibilities at Sea Grant.
"I'm confident that my very capable crew can continue operations as normal," he said.
In addition to developing the training program, he is also looking forward to possibly creating a Connecticut Oyster Trail to promote the industry and engaging the public about the environmental, economic and social aspects of aquaculture.
"We are thrilled for the opportunity to expand Sea Grant's industry training and public engagement opportunities," said Tessa Getchis, aquaculture extension specialist at Connecticut Sea Grant.
Recently, she noted, demand has grown for a course in practical shellfish farming methods and Connecticut Sea Grant received a grant to build and implement that program in partnership with colleagues in Rhode Island and Massachusetts.
"Michael brings both teaching and practical farming experience to the program," Getchis said. "He's going to be a real asset to the team."
At Indian River Shellfish, Gilman and his partner supply wholesalers, restaurants, and sell directly to the public through a walk-up window at their small store near the docks. Lobsters and freshly caught porgy, fluke, black sea bass and other species caught by local fishermen are also available. A Connecticut native, Gilman said his range of first-hand knowledge and understanding of Connecticut's seafood industry will serve him well at Connecticut Sea Grant.
"I grew up in West Haven, and I've been fishing and catching crabs since the day I first went to the beach," he said. "I can hang out with the old-time fishermen and not get laughed out of the room, and I can hang out with the scientists and the teachers as well."
Starting June 1, Michael Gilman can be reached at: michael.gilman@uconn.edu.
Judy Benson is the communications coordinator for Connecticut Sea Grant.
---