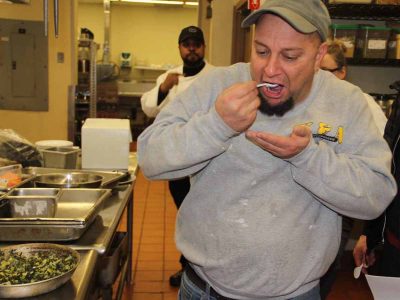 Story and photos by Judy Benson
After tasting rice pilaf with carrots, peppers and kelp, grilled shrimp wrapped in kelp leaves, baked salmon topped with leeks and kelp and manicotti stuffed with mushrooms and kelp, restaurant owner Chris Szewczyk is eager to incorporate the Connecticut-grown seaweed into his menu.
"It's an exciting product," said Szewczyk, owner of Taino Smokehouse in Middletown.
Standing nearby in the kitchen of the Sheraton Hartford South in Rocky Hill was Lydell Carter, sous-chef at the hotel restaurant. Between forkfuls of the various dishes, Carter said he, too, is a convert to the possibilities of cooking with kelp.
"I definitely see it's very versatile," he said. "I really liked it with the shrimp.  I like the flavor profile and the texture."
Carter and Szewczyk were among a small group of restaurant professionals who gathered in the Sheraton kitchen on Dec. 13 for an introduction to kelp cuisine from Jeff Trombetta, professor of culinary arts at Norwalk Community College. He's been chopping, sautéing and consuming kelp for the past four to five years, developing recipes for what he believes could become chefs' "new go-to vegetable."
"It's our claim to fame," said Trombetta, who gave copies of his recipes to the group. "We should be using it."
Trombetta was referring to the work done led by Prof. Charles Yarish at UConn's Stamford campus, along with Connecticut aquaculture farmers and others to develop the methods to cultivate, harvest and process this edible seaweed native to Long Island Sound. A winter crop raised on long lines at eight sites across the Sound in 2018, growers are still working to find the best ways to process, package and build demand.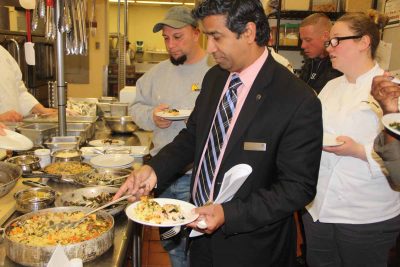 Anoushka Concepcion, aquaculture extension specialist with Connecticut Sea Grant, works with growers and chefs interested in using kelp.  Events like this one, she said, are a way to reach key players who can spread the word about kelp to a wider audience.
"It's a good step toward developing a local market," she said. "The chefs can help create the demand and the access for new markets."
The event was organized by James Oswald, executive chef at the Sheraton, for fellow members of the Connecticut Chefs Association. It followed a Sea Grant-sponsored workshop in September that gave chefs the chance to learn about kelp from the growers.
Oswald said he plans to start using kelp in the hotel's catering business.
"I'd like to create a dish similar to what he (Trombetta) did with salmon, but using cod," said Oswald, who is first vice president of the chefs' association. "It would give us the green color and the flavor."
The kelp used in Trombetta's demonstration was supplied by J.P. Vellotti, who grew it at sites in Norwalk and Groton. He delivered a boxful of 12-ounce packages of blanched, frozen kelp to the hotel, inviting the chefs and others to take some back to their own kitchens. After the cooking and eating part of the event was over, Vellotti gave a photo presentation explaining how kelp is grown and harvested.
Juliet Wong, convention services manager at the hotel, said that as a vegan, she especially appreciated learning about kelp and how to use it. She took two packages of Vellotti's kelp to use in her home kitchen.
"It's very delicious," she said. "I really liked the texture. I'm excited to try new things with it, now that I know how versatile it is."
Jeff Trombetta's recipes can be found here:
Salmon with Kelp and Grilled Lemon Topping
Judy Benson is the communications coordinator at Connecticut Sea Grant.
---