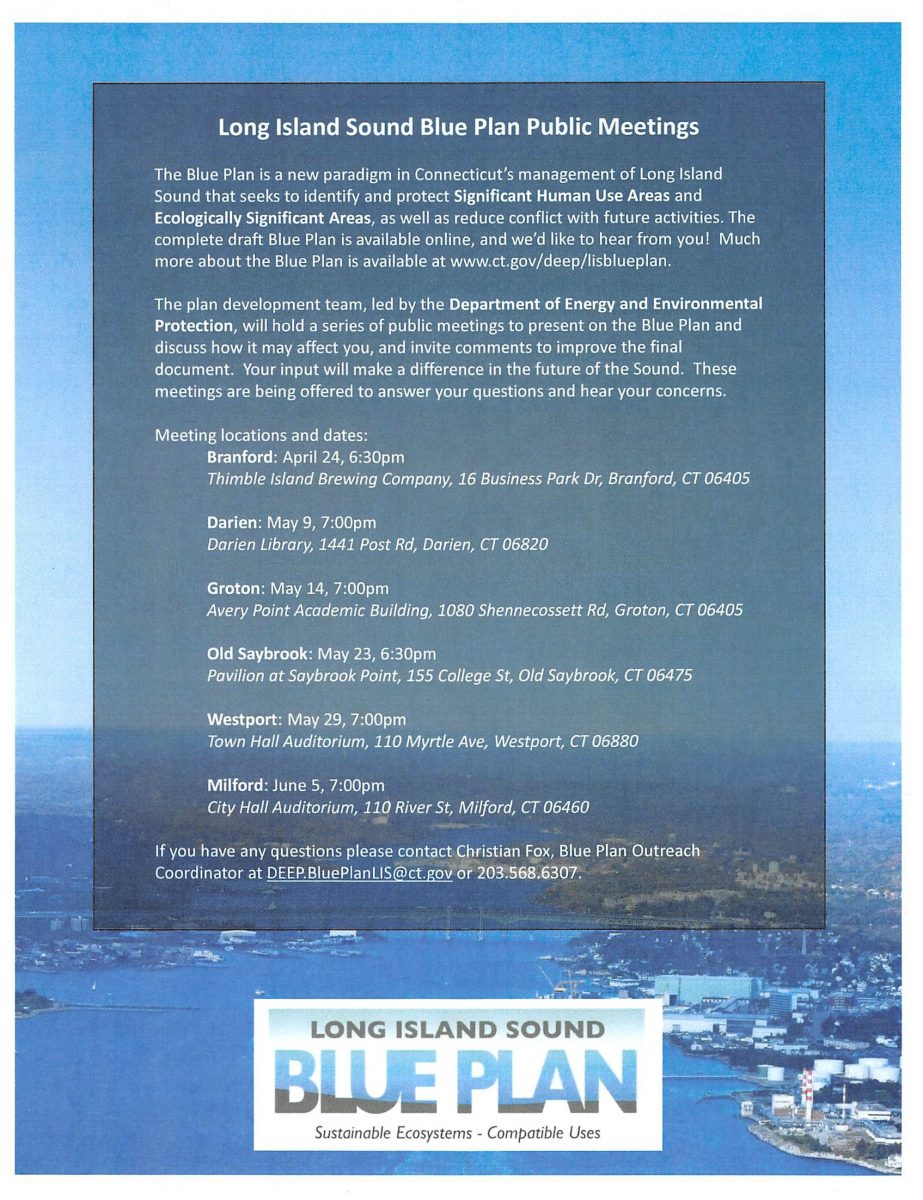 The public is invited to six regional meetings and a film premier event over the next eight weeks to learn about and comment on the Long Island Sound Blue Plan.
The plan development team is hosting the meetings from April 24 to June 5 at locations along the coast. The meetings will consist of presentations about the plan and how it may affect various users of the Sound. The plan is intended to identify and protect significant human use areas and ecologically significant areas of the Sound, as well as reduce conflict with future activities. Attendees will be invited to comment, share concerns and ask questions about the draft plan, which can be found at: www.ct.gov/deep/lisblueplan.
In addition to the six public meetings, there will also be a premier on May 1 of the film series created for the Blue Plan. The videos showcase all the reasons, activities and ecology in the Sound that the Blue Plan aims to support.
The plan development team is also planning a series of daytime webinars about the plan; information to be announced.
The meetings are:
April 24 at 6:30 p.m. at the Thimble Island Brewing Co., 16 Business Park Drive, Branford
May 1 at 6:30 p.m., Blue Plan film series premier, Middlesex Community College, Chapman Hall Room 808, 100 Training Hill Road, Middletown.
May 9 at 7 p.m. at Darien Library, 1441 Post Road, Darien
May 14 at 7 p.m., UConn Avery Point Academic Building, 1080 Shennecossett Road, Groton
May 23 at 6:30 p.m., Pavilion at Saybrook Point, 155 College St., Old Saybrook
May 29 at Westport Town Hall Auditorium, 110 Myrtle Ave., Westport
June 5 at 7 p.m., Milford City Hall Auditorium, 110 River St., Milford
Creation of the plan is being led by the state Department of Energy and Environmental Protection, Connecticut Sea Grant and the Connecticut Chapter of The Nature Conservancy.
The comment period for the draft plan will close on June 21. Comments will be considered as the final version is created for submission to the State Legislature for approval. For more information about the plan, visit: https://seagrant.uconn.edu/?p=4878.
Click here to download the flyer for the Long Island Sound Blue Plan.
If you require an accommodation to participate in any of these events, please contact Christian Fox, Blue Plan outreach coordinator, at: DEEP.BluePlanLIS@ct.gov or at (203) 568-6307 at least five days in advance.
---