By Judy Benson
While the pandemic curtailed many favorite activities, recreational shellfishing remained popular and even surged in many shoreline towns last year.
"Clamming is a very COVID-friendly activity," said Peter Harris, chairman of the Waterford-East Lyme Shellfish Commission. "You're outside, you have a nice long rake so you stay socially distanced, and you get a nice food source."
More than 500 shellfishing permits sold in 2020 for the WELSCO beds in the Niantic River – about the same number as in 2019, but COVID concerns did have an impact. One of the most popular areas had to be closed because too many boats were congregating there, creating a "party atmosphere" that wasn't safe, he said. Finding a way to safely sell permits also proved challenging.
Similar stories of strong interest in shellfishing in 2020 along with unique challenges presented by the pandemic were heard from representatives of the 12 commissions that attended the Annual Meeting of Shellfish Commissions on Feb. 13. Usually conducted in-person, this year's virtual meeting brought together about 35 of the volunteers who serve on municipal commissions along with scientists, regulators and extension specialists from the state Department of Agriculture Bureau of Aquaculture and Connecticut Sea Grant.
The experts presented updates on monitoring programs for the various pathogens that can cause illnesses and force shellfish bed closures, a review of water sampling protocols and in-person inspections of areas being considered for new bed openings.
"We can now assess mooring areas differently, and we may be able to create opportunities in some new areas," said Alissa Dragan, environmental analyst at the Bureau of Aquaculture. "Our goal is to have one or two new areas opened in the next year."
Before inviting each of the commissions to report on the past year, Tessa Getchis, aquaculture extension specialist at Connecticut Sea Grant, shared some of the projects underway or being considered to advance awareness and collaboration about recreational shellfishing. Those include the possible creation of an association of shellfish commissions and a shared online platform where members of different commissions could share information. An analysis of the impact of economic impact of recreational shellfishing is in the works, she added.
"We want to show how important the sector is and how important your work is," she said.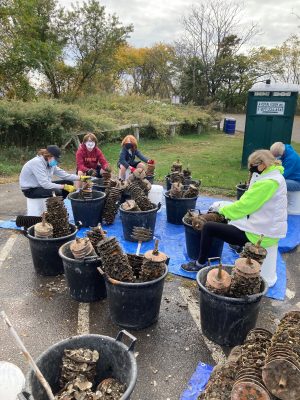 Wayne Church, chairman of the Clinton Shellfish Commission, led the sharing roundtable with news that 170 clamming permits were sold in his town in 2020, the first year recreational shellfishing had been offered there. Permits were sold online, he added.
"This was the first summer season we were open," he said. "Shellfishing was a positive distraction during COVID. Many new people were interested in clamming."
In Greenwich, one of the main shellfishing areas had to be closed because of pollution problems in a nearby area that is used to access the recreational beds, said Roger Bowgen, commission chairman. A new challenge the commission in Greenwich and several other towns faced in 2020 is an influx of applications to build waterfront homes, new docks and jetties – many from people relocating from other parts of the country – that could impact recreational shellfishing areas.
In Madison and other towns, annual community clam digs and other outreach events had to be cancelled, but tentative plans are being made to revive the activities this year.
"We hope to get the summer clam dig in," said Kevin Clark, chairman of the Madison commission.
Westport and Fairfield saw some of the largest increases in permit sales last year. In Westport, 557 permits were sold, said Alicia Mozian, Westport's conservation director and ex-officio member of the town's shellfish commission. That included 199 permits sold to those new to shellfishing, a 37 percent increase in newcomers over 2019.
Fairfield's permit sales reached a new record high of 345 in 2020, said John Short, shellfish commission chairman. While many of the town commissions remained active in seeding clams and oysters on their  recreational beds in 2020, the Fairfield commission was especially so.
"We seeded 120 bushels of clams, and 60½ bushels of oyster spat on shell, which was about 70,000 oysters," Short said. "We also were approved for six downwellers at the town marina to grow oysters, which will provide educational opportunities."
The meeting concluded with an overview from Getchis of a project to map areas of Long Island Sound best suited to shellfish bed restoration projects, followed by a short lesson on the various challenges posed by climate change to shellfish aquaculture. These include more extreme weather events, introductions of new pathogens, ocean acidification and sea level rise.
Kristin DeRosia-Banick, Supervising Environmental Analyst at the Bureau of Aquaculture, said that some of the responses to these challenges include formation of Shellfish Growers Climate Coalition, the inclusion of aquaculture experts on the Governor's Council on Climate Change (GC3), and research initiatives focusing on how changes in the pH, salinity and temperature of marine waters will impact shellfish growth.
"We're also looking at using a pilot program to predict water quality impacts to shellfish growing areas," she said.
Judy Benson is the communications coordinator for Connecticut Sea Grant.
---